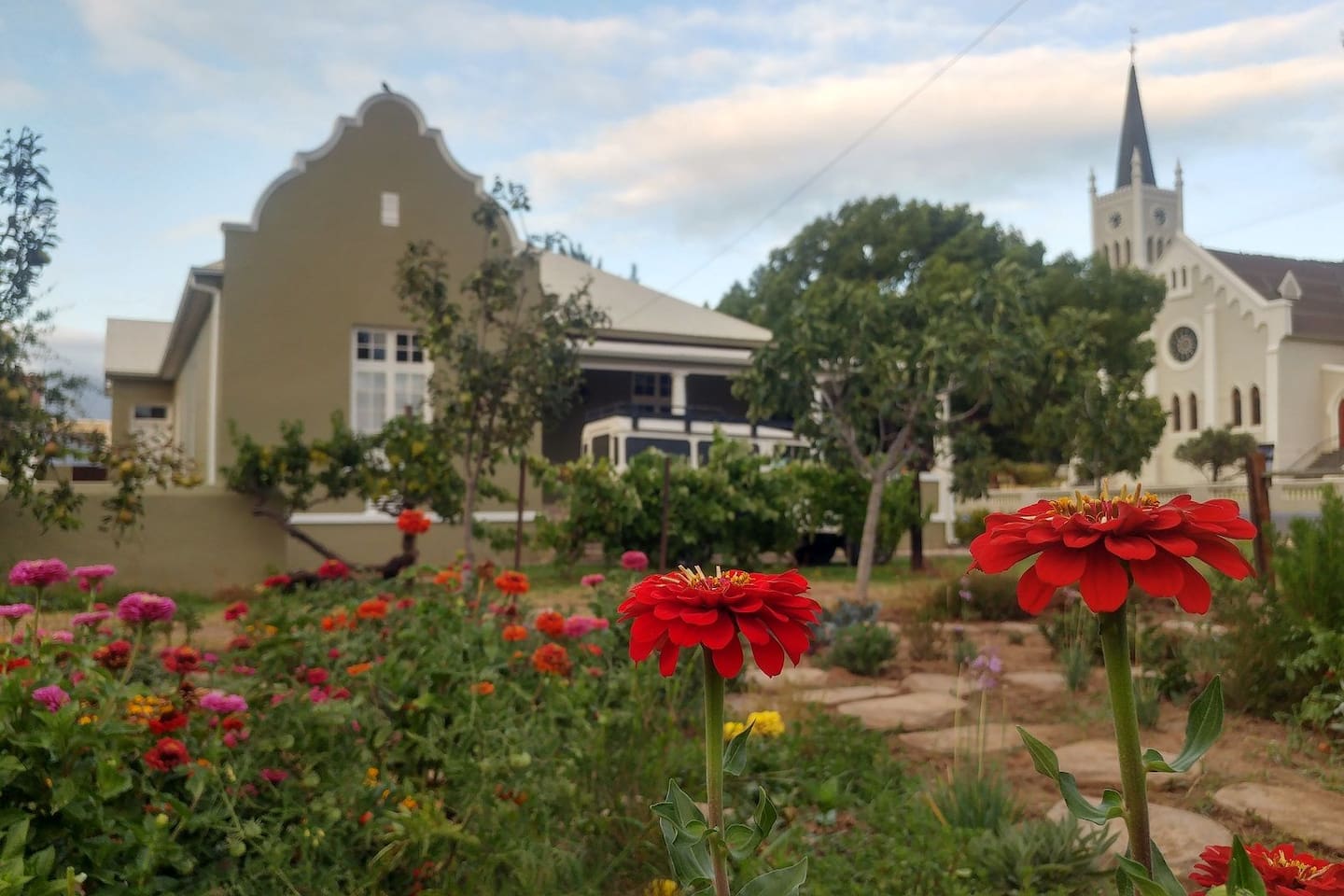 It's my great pleasure to announce my first art workshop!
The workshop will take place between the 27th July 2018 and 29th July 2018.
The event is going to be held at Ruth62 Guesthouse, Barrydale (see photo's below).
Details of the course:
This is an exclusive 3 day art and soul retreat for those of you who are serious about exploring, playing with and — most importantly —unleashing that inner artist!
I'm going to show you some of the techniques used in the backgrounds of my 'finding beauty in chaos' painting series (see picture to your left for an example). It's a whole lotta fun and I can't wait for you to experience what it feels like to let rip on the canvas!
Then we are going to create something beautiful in the foreground.
I will also explain the magic behind the concept and how you can apply it to any situation in your life…you'll just have to wait to hear more about that.
What You Get…
Every day you will be served a wholesome, country lunch and tea/coffee/biscuits throughout the day.
This event is an opportunity to gift yourself an experience that will spark the creative within.
You will also be gifted with a:
light-weight aluminium fold-up standing easel (with carrier bag),
all paint and brushes,
the canvas that will house your amazing creation,
and my book, 'Creative Expression — How to Find Your Inspiration' for those moments where you may need to poke your motivation.
Because I want to offer a one-on-one experience, I can only facilitate 8 people (and bookings have already started!) , so please secure your place now by e-mailing me at cheriedirksen@yahoo.com.
Price: R2950 p/p (approx. $250)



Daily program: 10:00 – 12:00 (painting) 12:00 – 13:00 (lunch break) 13:00 – 15:00 (painting)
Extra's (not included): accommodation at Ruth62 Guesthouse can be arranged at a discounted rate over the 3 day period if you are not a resident of Barrydale. Please enquire at Ruth62 Guesthouse Site (click here) and don't forget to mention that you will be a participant at the workshop to claim your special rate.
Art blogs you may enjoy:
If You Love Trees, You Simply Can't Miss Out on This New Painting!
New Photographs of Painting 'Iceland Poppy Mix' and Art on Duvet Covers!