Living the Dream
It has always been a dream of mine to paint BIG. Although I have painted a few large scale paintings during the course of my career, I am now sold on the experience of painting big.
It's really going to be my prime focus now as it was such an enjoyable (albeit daunting) project.
This painting was all about fantasy, magic, mystery and letting the imagination run riot.
Without further ado, here is the photo process of making 'Woodland Stream Gathering':
This was the start of the first layer.
The background trees now make an appearance — layer 1 of 3 layers of trees.
The second and third layer of trees is established. Now it's time for detailed branches!
It's hard work and my arm felt like lead weight.
Then came the stags (one is hiding behind the tree) — can you see it?
Now comes the details in the background and foreground (flowers and grass)
And lastly, the figures of the man, woman and child need to be brought out…
Here I am with the painting to show the size:
These were the photo's I took during the painting process. Please see below for the finished 'professional' shots for more details 🙂 As you will see, the colour varies quite a bit according to time of day. In the photo's below, the colour is more true to the original.
You can get prints of all sorts and products like blankets, bags, mugs, etc HERE
Below is the Poetic Description of the piece:
Deep in the heart of the forest,
an interconnected trinity is anchored
as mother, father and child.
Reminding us of our connection to nature
and to each other.
The roots reach out underground,
forming an unbreakable lattice.
The branches reach upward,
towards the heavens
touching the sky and the moon itself.
The watering stream is where life is drawn,
from stag to dragonfly.
dipping in and out of the life-giving vein.
Ever flowing, moving and alive with vitality.
Poppies dance in the moonlight,
and hint at the fragile beauty
of the mysteries the natural realm emits.
Cloaked yet waiting for willing eyes to see.
Here are some close up details of the painting: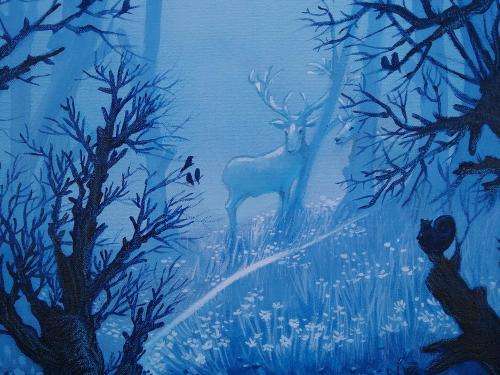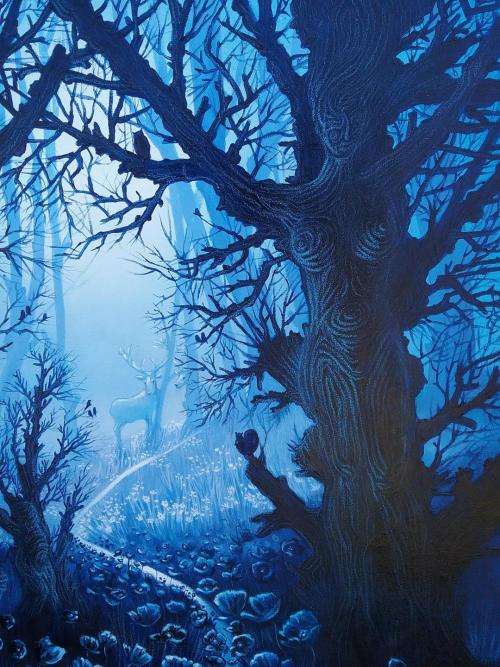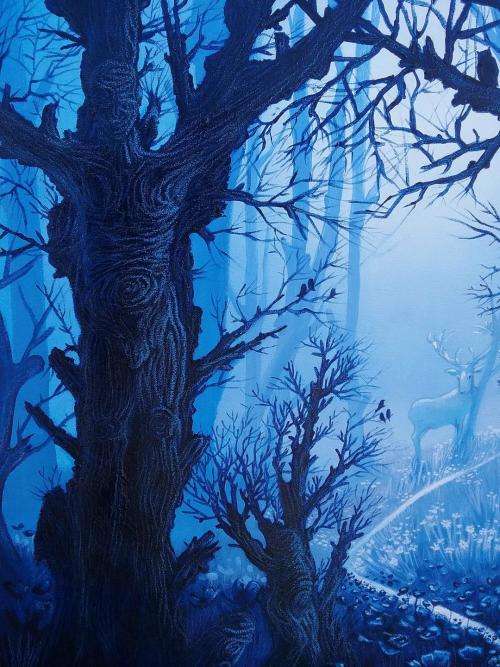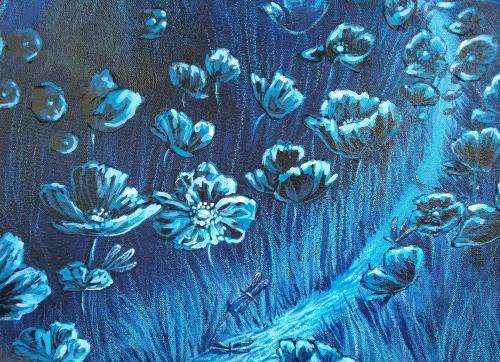 Get this great throw blanket with the art on it now at RedBubble!
Thanks for looking! I hope you enjoyed the painting process journey with me.
Other art blogs you may enjoy: