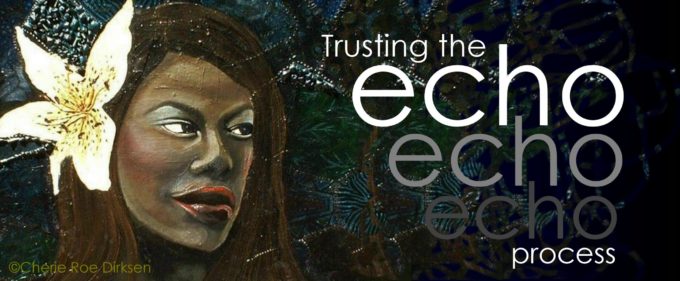 So you've taken the initiative to change the course of your life to something that pleases you more. You've recognized that you are the co-creator of your experience and you've set your sails to bring you more of what you desire.
Suddenly you are confronted with more of what you don't want.
Why?
Understanding the Echo Effect
It's known as an echo. The Universe, in its weird and mysterious way, puts these 'echo's' before us to get us to confront our change and see if it is what we want and if we are vibrationally aligned to said change.
What this means is that if you've been manifesting car problems and your new desire is to have a car that runs smoothly. You may get a flat tyre or a blown gasket. This is a kind of frequency test.
Read related article: Research Shows Thinking Negatively Affects Your DNA and Shortens Your Life Span
What is Your Reaction?
What's actually happening is a test on how you REACT to this. If you truly are on a new path where your car is working great — your vibration will be light when one of these echo's comes a-calling.
If you have changed and are on the track of vibrant va-va-voom vehicle vibrations, then you can just shrug off this echo and say to the Universe, 'this is okay 'cause I know what I want and what I want is a working car. All is well'. Your vibration will be matched and you have passed the test.
If you lose your marbles and start kicking the car and saying, 'why does this always happen to me?' — you clearly have not changed your vibration to what you want.
Facing the Echo — Design or Default?
It feels like a dichotomous situation to get a repeat of the energy of the past but it is a vital factor in YOU realizing that you have not (or have) actually changed the way you think and feel.
You can either design the future (I want a working car) or go to the factory default (my car always fails me). The echo is a way to test your vibration to see if you are on a new timeline.
Read related article: How to Effectively Slip Into Your Preferred Future
It's actually a great thing to get an echo because it means that your desire is being processed and you are in the throes of the final tweak.
Don't get caught up in the echo and feel like you're going backwards — shout into that echo with a 'thank you! I've totally got this and trust with a capital T'.
If you can face adversity and be calm and content about it, you have just stepped over the threshold of manifesting what you desire. The echo test is your gauge.
Trust in the process and don't let those echo's pull you back into the reality you want to step away from.
Other articles you may enjoy:
Community Power Groups are Reshaping the Way We Think
Do You Need to Learn How to Say 'No'?
Are You Expecting Good Things to Happen? Why You Should…
Cherie Roe Dirksen is a self-empowerment author, multi-media artist and musician from South Africa.
To date, she has published 3 self-help and motivational books and brings out weekly inspirational blogs at her site www.cherieroedirksen.com. Get stuck into finding your passion, purpose and joy by downloading some of those books gratis when you click HERE.
Her ambition is to help you to connect with your innate gift of creativity and living the life you came here to experience by taking responsibility for your actions and becoming the co-creator of your reality. You can follow Cherie on Facebook (The Art of Empowerment — for article updates). She has an official art Facebook page (Cherie Roe Dirksen – for new art updates). You can also check out her Facebook band page at Templeton Universe.
Cherie posts a new article on CLN every Thursday. To view her articles, click HERE.
This article (Why 'The Echo' is Important on Your Evolutionary Path) was originally written for and published by Conscious Life News and is published here under a Creative Commons license with attribution to the author Cherie Roe Dirksen and ConsciousLifeNews.com. It may be re-posted freely with proper attribution, author bio, and this Copyright/Creative Commons