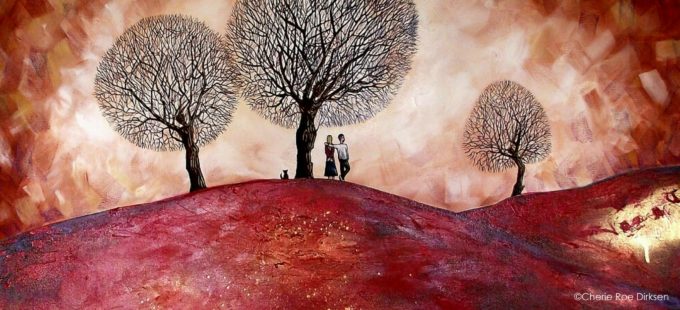 Your Focus is Your Life
If you're not expecting great things to happen to you each and every day, you're probably not going to be disappointed — you'll be creating the mundane. You're a powerful creator either way.
Remember that movie 'Groundhog Day'? The main character repeated the same day over and over and over again…until he started injecting his day with some much-needed action and rewired the way he interacted with the events and people in his life.
This touches on what I want to offer in today's article: How to turn things around by getting excited about every single day you wake up breathing!
"When you wake up in the morning, Pooh,' said Piglet at last, 'what's the first thing you say to yourself?'
'What's for breakfast?' said Pooh, 'What do you say, Piglet?'
'I say, I wonder what's going to happen exciting to-day?' said Piglet.
Pooh nodded thoughtfully. 'It's the same thing', he said." ~ (Winnie-the-Pooh) A. A. Milne
Let's take a look at sharing the optimism of Pooh and Piglet.
Manifestation Flows Where Attention Goes
I've been pulling a Piglet for quite some time now — the moment I open my eyes I say 'today is going to be a wonderful day, full of pleasant surprises if not miracles!' Read related article: 6 Impossible Things To Do Every Day
I'm very rarely disappointed.
It's really quite that simple. Set your intention for the day. You can even get specific if you are doing something and you want to see that something go splendidly well. Visualize how you want your day to go, or, if you don't feel like getting into the semantics — just set that intention to have a fabuscrumptious day.
Your only job is to feel into that vibration of excitement or joy or whatever you want to experience. You've got to pay close attention to all the little good things as well as the big good things that transpire.
What I do every night (when I'm back in bed) is a quick review of all the nice things that happened during the course of the day. I'll tell you something — you'll be surprised how much great stuff happens in a day!
From Large to Not So Very Large
The key things to remember when you take charge of your optimism are:
Follow your excitement. Like Pooh, get excited about your breakfast or taking a nice hot shower. Appreciate ALL the things in your life. If you feel like taking a nap and have the opportunity to follow that little bit of excitement — then nap with gusto! Passion is all about doing what feels good in the moment. It's not only about your career or your hobbies. It's about what you wear when you get dressed in the morning, it's about the wonderful interactions you have with other people during your day (see how many smiles you can get out of people!), it's about getting excited about your next cup of coffee or what you're planning to create for a nutritious and delicious supper. Read related article: 

How Good Are You Out of Bed?

Acknowledge Everything. Give gratitude constantly for the small and large things in your life. It could be that awesome breakfast you just ate, the birds singing sweetly outside your office window or your dream car that you bought 2 years ago. When you think about it, you'll realize that you always have something to be grateful for — even the body you occupy is a huge blessing so sorely overlooked as such.
Understand Your Frequency. When you (1) expect good things to happen, (2) you're wide awake to see them manifest and (3) you're grateful when they pop up — you are automatically raising your vibration which will, in turn, cause more juicy things to happen to get you more excited to raise your vibration even further. Snowball effect type thing. If you slump (and you may — it's a human-being-on-planet-earth-type-thing!), just remember to acknowledge the space you're in and to know that it will pass and that, effectively, 'all is well'. I say that a LOT when I'm not feeling all high and googly. It's very grounding — take a deep breath and say 'all is well in my world'. Don't underestimate the power of a long, deep breath. It can really center and balance you if you're feeling overwhelmed or when you start to feel doubt, fear or panic set in.
There is a saying that is a wee bit topsy-turvy — 'seeing is believing'. I'm afraid that, in my experience, this is upside down and all wonky-doo-dah. It should be 'believing is seeing'.
Sing 'Hallelujah' Come on Get Happy!
When you wake up (literally and figuratively) and decide to opt in for excitement, life will show you things to get excited about. It's just not going to work in reverse. You'll sit and wait a lifetime if you think that life will give you what you want so you can be happy. You've got to be happy (and it's your job to determine how you get into that state) and then life will reciprocate.
Please share your stories or affirmations about how you raise your spirits and how it influences your life in the comment box below — I'd love to hear from you!
If you liked this article, you may consider starting a gratitude journal. Every day write something you are grateful for, no matter how big or small. You'll see your life start to change when you focus on the positive!
Get your gratitude journal today (click on this link or the picture below) for yourself or for someone you know who's starting out on a self-empowerment path and could use a bit of motivation!
These gratitude journals can be purchased lined or blank (depending on whether you prefer drawing what you're grateful for or writing it). They are 13.2cm x 18.6cm – a handy pocket-sized journal!
Other articles you may enjoy:
Are You Brave Enough to Be Happy?